Start Your FREE Trial Today!
Healthy Snack Vending Machines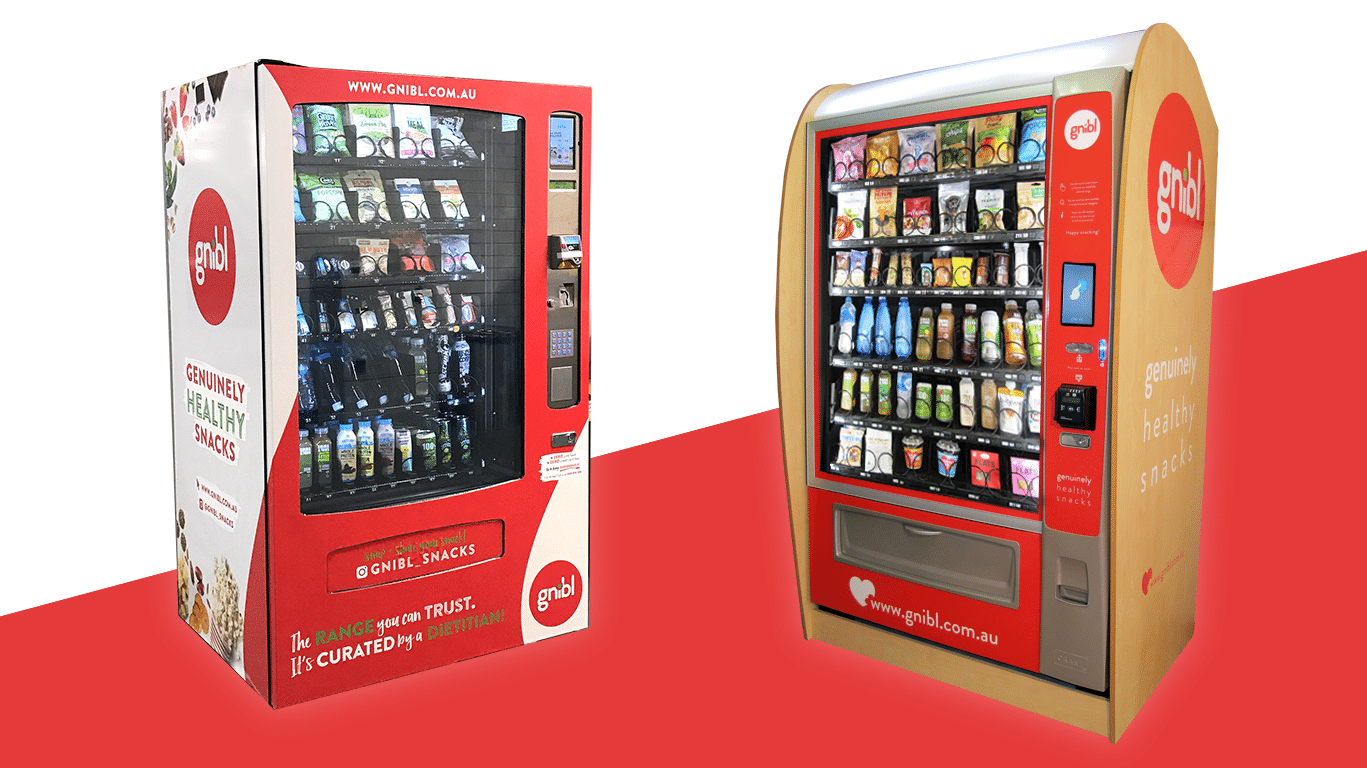 We know how hard it can be to eat healthy at work, especially with all the health food hype that makes it even harder to know what is
actually
good for you.But don't worry! We have done the hard work for you by checking ingredients, running the numbers, and taste testing products to ensure you will enjoy all the snacks we supply. We've also utilised the guidance of our accredited practicing dietitian, so you can feel confident knowing the choices you make will be good ones.
Create a Happier, Healthier Environment with Gnibl
A Gnibl healthy vending machine will cost you
absolutely nothing
to install, maintain, and restock! There is also no lock-in contacts or subscriptions, however, we recommend a 60-day trial to review how much people love it. When someone is craving a snack, they simply purchase their choice directly from the Gnibl machine.
Our high-tech vending machines contain smart sensors allowing us to monitor everything remotely including when your machine needs to be restocked. If there are any payment issues or a product does not vend, our friendly support team are just a phone call away to provide an immediate refund, 100% guaranteed.
Claiming your free healthy vending machine in Sydney is easy! Firstly, reach out to our friendly team to organise a site inspection. All your Gnibl machine will need is a single, standard power point and the perfect spot. From there, we'll install your machine, and you
can start purchasing your delicious healthy snacks! (Plus a few treats too!) Yum!
Start Your FREE Trial Today!
Every Gnibl machine is unique and supplied with a huge range of dietitian-curated snacks and drinks. You can customise your product range around dietary requirements and preferences, plus we can even include a 'Naughty Corner'.
What Makes Gnibl Different
Dietitian Curated Range
Fully Refrigerated for Freshness
Wheel Chair Friendly on Large Units
State-of-the-Art Automated Software
Friendly Customer Care Just a Phone Call Away
Genuinely Healthy Options as well as Classic Treats
Multiple Size Units Offering Between 40-50 Snack Options
Snack Machines, Drink Machines, and Combination Machines
Refunds Issued Immediately Over the Phone (100% Guaranteed)
Multiple Payment Options incl. Credit Card, Smartphone, or Cash
Unique Staff Rewards Programmes
At Gnibl we encourage healthier snacking choices, however we understand sometimes you
just need to eat something 'naughty'. To keep everyone happy with the best of both worlds, your vending machine can include a Naughty Corner full of your favourite classic treats.
Take Workplace Wellness to the Next Level
"Being based in an office it is easy to snack on bad foods, Gnibl offers a healthy alternative to staff that always tastes great – plus you don't feel guilty after your 3pm snack!"
"Gnibl are wonderful at tailoring our healthy snacks... They listen to what we like and what works well for us and keep those items but also make great suggestions for new things to try…"
"The Gnibl offering is just what we needed as it is healthy. The staff love the variety and the prices are competitive. We also love that there is a change of items to bring in new ones. Together with fabulous service, Gnibl is a great choice."